Tutor Ring "Tuteurs pour l'alternance européenne"
Tutor Ring "Tuteurs pour l'alternance européenne"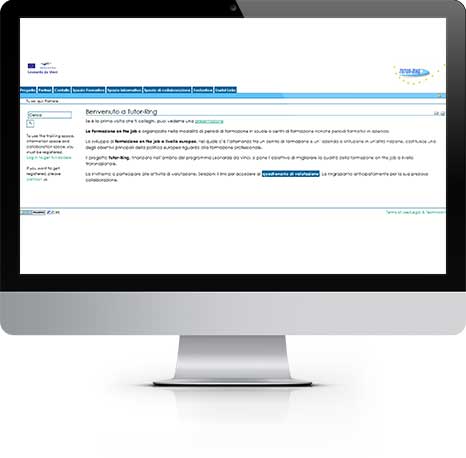 Il progetto Tutor Ring ha l'obiettivo di fornire uno strumento di formazione indirizzato ai formatori aziendali coinvolti nella formazione professionale "on the job"
In particolare è rivolto a:
aziende, organizzazioni e centri di formazione  che si occupano di  formazione professionale transnazionale attraverso stage in azienda per i loro apprendisti, studenti o tirocinanti adulti.
tutte le persone coinvolte nella formazione "on the job", ovvero:
A) tutor aziendali –  definiti come coloro che, in collaborazione con i formatori degli enti formazione, hanno il compito di seguire, aiutare ed informare i tirocinanti durante il periodo di apprendistato in azienda
B) Insegnanti ed educatori di scuole e centri di formazione, che collaborano con i tutor.
C) beneficiari finali della formazione professionale transnazionale "on the job" (giovani nella fase iniziale di tirocinio e adulti in formazione continua).
Il sito non è più disponibile
Promosso da GIP-Auvergne sul programma Leonardo da Vinci, Pilot Projects, codice identificativo: FR/04/B/P/PP-151119
Association Nationale pourLa Formation Automobile(FR)
Universitatea Politehnica din Bucurestii  (BG)
CONFORM-Consorzio Formazione Manageriale (IT)
European Profiles S.A (GR)
FIM-NeuesLernen
(Friedrich-Alexeter-Universität Erlangen-Nürnberg) (DE)
GIP Auvergne  (FR)
Itä Suomen Aikuisinstit-uuti (ISAI Ltd) (FI)
Centre d'Etudis MONLAU (ES)
NoorderpoortCollege(NL)
NorthDevonCollege(UK)
VSB-Technicka Univerzita Ostrava (CZ)
SCIENTER (IT)
TRANSFER Slovensko (SL)
TÜV Akademie GmbH (DE)
Volkswagen Coaching GmbH (DE)
Fra i prodotti realizzati nell'ambito del Progetto Tutor Ring con il contributo dei partner nazionali ed internazionali, vi sono:
Un modulo di formazione per i tutor (disponibile in 11 lingue: Ceco, Inglese, Olandese, Finlandese, Francese, Tedesco, Greco, Italiano, Rumeno, Slovacco, Spagnolo)
un collaborative workspace perla Rete
uno spazio di lavoro online che aiuta i formatori e gli educatori coinvolti  nella formazione professionale transnazionale "on the job" a comunicare e a collaborare durante tutto il periodo di stage presso centri di formazione e nei luoghi di lavoro all'estero.
Lo spazio Tutor Training vuole dare ai tutor aziendali coinvolti nella formazione "on the job" europea le conoscenze specifiche necessarie per gestire i rapporti e le comunicazioni interculturali. Per questo motivo, contiene 12 moduli formativi basati su casi studio interattivi in grado di spiegare come gestire, in una dimensione interculturale, le relazioni con i formatori in contesti di formazione transnazionale e, in particolare, le differenze tra culture professionali e culture aziendali dei rispettivi paesi
L'ambiente non è più disponibile