COMBA Competence Based Approach
COMBA Competence Based Approach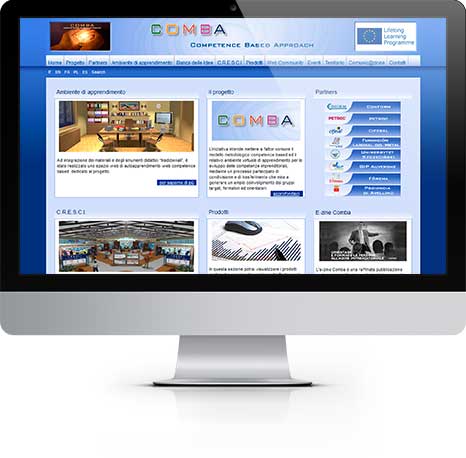 The COMBA project aimed to encourage the adoption and diffusion of a model able to:
1. support guidance and training system actions, assuming competence as: – a constant reference for trainers, to promote and cultivate people's attitude and motivation to make them independently capable of activating entrepreneurial behaviour; – a guiding value for career guidance staff to diagnose users' possession of skills, qualities and entrepreneurial behaviour that represent a real, significant competitive advantage in the business world. 2. stimulate the career guidance and training sectors to diversify and personalize services offered to diagnose and develop "business", skills, guiding users to select and take training courses. 3. facilitate people's access to career guidance/training services that facilitate and nurture a sense of initiative and enterprise, developing cognitive, capacity and behavioral competence elements to combine and mobilize to translate ideas into actions.
Promoted by CONFORM for the LLP Leonardo da Vinci Programme – TOI projects, I.D. code 10-IT-516
Conform – Consulenza Formazione e Management S.c.a.r.l. (IT)
Provincia di Avellino (IT);
Fòrema– Societa Consortile a responsabilita limitata (IT);
CIFESAL – Centro de Investigacion y Formacion de Empresas, SAL (ES);
FLM – Fundacion Laboral del Metal (ES);
PETROC ex North Devon College (UK);
GIP – Auvergne (FR);
University of Szczecin (Uniwersytet Szczeciński) (PL)
The self-directed, competence-based learning environment is divided into four distinct areas and available in the five partnership languages. It is for trainers, and career guidance staff, to present e promote business ideas and develop business culture awareness..
To view the COMBA environment
To view some of the products developed during the COMBA Project with the help of national and international partners, please go to the project website and download pdf documents.