SECURE BUSINESS – Certified Information Security Officers in SMEs (CISOinSMEs)
The CISO in SMEs project aims to provide SMEs with knowledge on information security and requirements for certified training based on blended learning.
This will be done by transferring innovative training solutions in line with the experience of the INSEMOT project (training courses, e-learning contexts) and with the (VCC)professional certification system, which certifies the skills of both trainers and trainees.
These two elements will be used to prepare a modern, avant-garde training course, based on updated knowledge and specific requirements relating to a given set of issues, which are fundamental for a professional expert in information security in SMEs.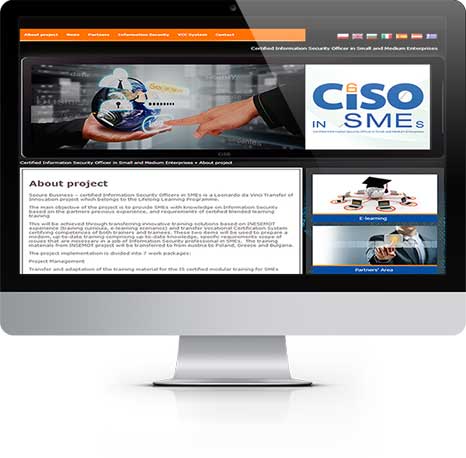 REFERENCE PROGRAMME
LLP-Leonardo da Vinci-TOI- id code: 2013-1-PL1-LEO05-37738
NATIONAL AND INTERNATIONAL PARTNERS
Syntea S.A. (PL)
CONFORM CONSULENZA, FORMAZIONE E MANAGEMENT S.C.A.R.L., (IT)
Hafelekar Unternehmensberatung Schober GmbH (AT)
IDEC S.A. (GR)
Association Generations (BG)
INNOVACION DESARROLLO Y NUEVAS TECNOLOGIAS S.l (ES)
ASSOCIATED PARTNERS
1. Humaneo (PL)
2. Personnel Holding AD (BG)
3. Metodo Studii Consultanţa Romania SRL (RO)